Create and edit appointments

The details of an appointment consist of:


date / time : from - until : entered numerically or with increment / decrement buttons


patient


type of appointment (normal, break, vacations, etc.)


additional text notes


colour of the appointment in the schedules


required resources (staff, rooms, devices)


action / method / task

In case the selected resources (staff / rooms) are already (entirely or partially) occupied by other appointments, this conflict is shown immediately. If a conflict results by changing the appointment hour, red fields under the affected resources indicate this.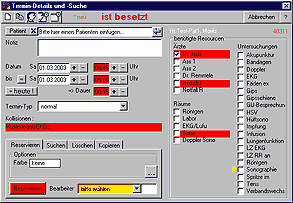 search for free resources
patient details


home